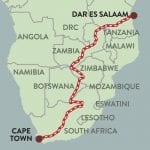 15 NIGHTS • 5530km
This epic train journey travels through South Africa, Botswana, Zimbabwe, Zambia and Tanzania and is one of the most famous in the world. The sojourn begins in Cape Town taking guests to the historic village of Matjiesfontein, the diamond town of Kimberley and the capital city of Pretoria for short tours followed by two nights in the Madikwe Game Reserve. Continue through Botswana into Zimbabwe where guests overnight at the Victoria Falls Hotel. After crossing the mighty Zambezi River, the train joins the Tazara line in Zambia and continues to Chisimba Falls where guests enjoy a bush walk. The train climbs to the Tanzanian border then descends into the Great Rift Valley negotiating the tunnels, switchbacks and viaducts of the spectacular escarpment. Climbing again, it traverses the Selous Game Reserve – the largest on the continent and a vision of timeless Africa – before the bustling arrival in Dar es Salaam the following day. Available in reverse.
CAPE TOWN-DAR ES SALAAM ITINERARY >
DAR ES SALAAM-CAPE TOWN ITINERARY >
Please note that we have amended the journey from 14 nights to 15 nights to accommodate various operational challenges and manage service expectations. The excursions remain the same with the additional night including two extra meals. Our rates remain unchanged for the 2023 and 2024 season. Thank you.